The Workshop
Join us on this wondrous day in the forest!
We will be learning the magnificent method of healing and developing awareness from the Laboratory of Life and applying it to communing with the beautiful trees in this lovely forest and then partnering with the trees for service to the planet.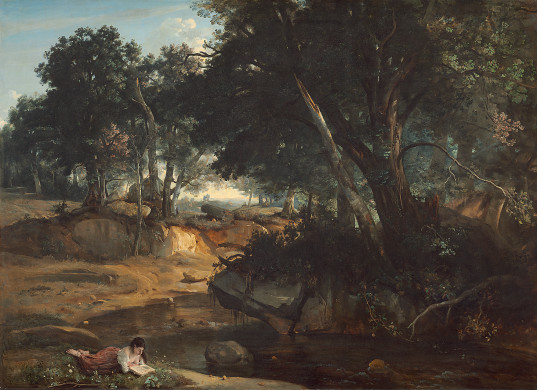 Jean-Baptiste-Camille Corot Forest of Fontainebleau 1834
For more about the contents of the workshop, click here.
Note: if you wish to go more deeply into the workshop material, we suggest you also attend the weekend workshop at Chalon-sur-Saône.
Travel: We will be meeting at the Paris Gare de Lyon train station at 10:00 a.m. to board at 10:19 a.m. and traveling to the Fontainebleau stop within the forest, arriving at 11:00 a.m. (The trains run every 1/2 hour and cost €8.40 each way.) Please be sure to purchase your train ticket before we meet. Those who live near the Forest of Fontainebleau can meet us when we arrive from Paris.
Lunch: Bring a potluck picnic lunch, rain gear if it looks like we will have light rain, and something to sit on if you like. The workshop will be held outdoors from 11:00 a.m. to about 5:00 p.m. or a little later.
Language: The workshop will be conducted in English. There will be French-English speakers available if you need assistance with any unusual terminology.
Contact:
Dani Voirin
E-mail:   danielle.voirin@gmail.com
Cell:    +33 (0) 603 944 027
To register:
Send Elisa an e-mail with your contact information; name, e-mail, cell phone number or home phone if no cell phone. It is important we have your contact information in case of last minute changes.
Send payment for the workshop here (click on the Donate button for the Thriving Planet World Tour) to use PayPal or a credit card.
Contact Dani Voirin to let her know you are coming and with any questions and if it looks like the weather will might necessitate postponing to the next day.
Cancellations:
Kindly register as soon as possible to secure your place in the workshop as Elisa's flight plans are contingent upon attendance. You can cancel with full refund until April 1, then until April 10 with a €15 fee. After April 10 the fee is non-refundable.