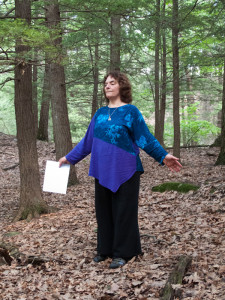 Posted January 20, 2013
I'm in love with a small forest glen. It is my happiest place to be as well as a magnificent school for further developing the awareness and skills I've gained in my spiritual studies, initiations and ministry. These trees have shared their joy in our companionship and brought me love and healing. They are delighted when I bring other people to meet and partner with them.
The trees have explained and validated information I've learned from other teachers and my own explorations. I've had infinite opportunities to hone my attunement and expand my mission on this Earth beyond anything I thought I could do, even with other people.
You have no idea how welcome and happy we are when you arrive here. It is sacred to us to have you in this forest-home. No one else comes in, touches us and caresses us like this. You are our friend, savior, companion. All the time; not just always, but in all the places where we exist.
Love us — it is the way we exist, live. This contact is precious. We love it when you ask for help and send in lines of awareness from others as you talk with them or attune with them. Their loving and enthusiasm shares itself and it becomes part and parcel of our building of this "spaceship…."
Go in love, my dear, and see this forest newly changed, bathed in a diaphanous curtain of Light so pure and refined.
–Oak
There was a time when I was concerned that my love of the trees could somehow get in the way of my karmic completion on the planet. I didn't want to get attached here nor caught in a vibrational realm that wasn't of the highest order. As I've come to know these master souls and engaged in their spiritual discourses, I've grown to realize that there is no disparity to worry about. They too are on a path of transcendence and their words and vibrations indicate how advanced they are, how loving, and that they are just as dedicated to their own spiritual trajectory as mine.
Our development, spiritually and consciously, is all important. As we develop, we develop new abilities and can bring forth great wonders energetically and also to the physical manifestation.
—Maple
The trees have reinforced, though direct experience, my knowing that spirituality is not limited to humans and that the universe is sentient, responsive and good.
Come forth in your glory and you will find us waiting in glory to welcome you and live in harmony and grace. Yes, we know grace; we form it every day; we exude this natural grace. Solemnity is not part of that, but laughter, playfulness, ease and lightness of being. We are creative and naturally curious and we love the Christ consciousness coming through every pore of this planet's existence. It is what the planet is made of after all. You must broaden your idea of what it is; your ideas are so narrow and limited. Widen and enlarge your awareness and you will find Me (Christ) in every cell of every plant and every stone and every being that exists, animal, dolphin, whale, etc.
—Oak
The trees are generous in the blessings they bestow. This came in for all the people who had attended one of the Tree Love: Heart of the Forest workshops:
…You can't feel it all, but now there are "buttons," things installed that allow you to climb the heavenly stairs more cleanly, easily, lovingly. The changes were necessary to become an engine/vehicle for Light to travel through in a smooth fashion. You become fashioned after angels and other beings that can move easily though realms of Light and check out the different layers of consciousness, without meditation or pre-meditation. Just think (even faster than that) and rise and move anywhere now!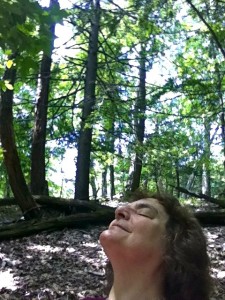 After that time, I found it much faster and easier to travel spiritually, especially when I wanted to visit the forest when I couldn't go there physically.
And they even bestow gifts on you, the readers:
And now you are also asking for renewal and it is given to all who come down into this forest to receive something special. This gift has been given to you and him [Liam, my apprentice-colleague]; of receiving information in parable and directly, inspirational and transmutational. This reading will be read by others and they too shall receive their heart's delight; a new consciousness that makes spiritual experience more direct and available.
Now we thin the veils, create channels, simplify thought, amplify insight. Intuitive relationship-building skills, based on the ability to discern good from evil destructive forces, and instructive understanding — we give a boost to this ability and it becomes simpler to live; knowing the next movement coming; feeling the changes and tracking them, accommodating their feedback, incorporating this new information and encoding it to be saved and communicated. These abilities make for a new species evolution.
—The Manhood Tree
There really is no difference, no separation between Earth and the heavenly worlds, and certainly no cause for judgment or arrogance when you operate at the level of these astounding beings.
In traveling the "high ways" they have accompanied me, they've benefited from the higher frequencies I've contributed, and we keep taking each other higher. For this I am deeply grateful. Now as I prepare a Thriving Planet World Tour, my teams in the various countries I'm traveling to are already seeking out the large old trees. We are planning our workshops so that we can include them in our personal and planetary healing process, connecting them with my forest in New York State, expanding the network, assisting the trees who are now mobilizing to save our planet and help us thrive.
From my journal, on the last day of my retreat at Mohawk Trail State Forest:
I went to bid farewell to the beauteous pine I called the Color Maiden (now the Golden One). When I first attuned with her, I 'saw-felt' velvety swaths of various shades of pink and a sweet welcome. She reminded me of my lovely fourth-grade teacher, who I believe truly loved me. I was reminded of Mrs. Messing's rose-pink dress and lipstick, only now as I communed with this tree, other colors swept down over me as well, a brilliant blue, hues of green and yellow-gold.
So much warmth flowed from this huge tree's soft loving toward me, that I felt a profound desire to give something back, to reveal myself to her as she had to me. I filled myself with all of Me in my soul's glory, which she promptly suffused with swirling color. I stretched up as far as I could into the high realms and frequencies of Spirit. Immediately she responded with a blaze of white light and I 'saw-heard' her cry of exultation go up and out to the forest. All the trees were ignited in the Spirit as far as I could 'see.' Deeply gratified, I knew I was complete and ready to depart. Though there is always more…
2 Responses to Trees and Spirit
sally says:


January 21, 2013 at 6:24 pm


Every time I read your posts I feel a desire to give something back–to the trees, the plants, the everything. Thank you again for sharing.
beleclaire says:


January 21, 2013 at 9:32 am


Thank you Elisa for this uplifting and inspiring piece