A Ministry of Loving
Rev. Dr. Elisa Novick, DSS
As an ordained minister, Elisa performs services and ceremonies for life's celebrations and lovingly serves those in life transition.
Her ordination, which took place in May, 1988, is through the the Church of the Movement of Spiritual Inner Awareness. In 2019 Elisa graduated Peace Theological Seminary as a Doctor of Spiritual Science with a Certificate for Post-Graduate Advanced Ministerial Studies, completing a five-year intensive program.
Her background includes The Institute of Individual and World Peace, additional coursework at Peace Theological Seminary and College of Philosophy, and the Peace Awareness Trainings. She has been a member of the Women's Interfaith Institute and Women of Vision and Action and has volunteered in a prison program facilitating the Growing Together group comprising men serving life sentences.
More information about Elisa's work.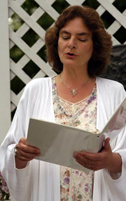 Weddings
Commitment ceremonies
Baby blessings
Godparent ceremonies
Coming-of-age ceremonies
Land and house blessings
Life transition services
Memorial services
Special occasion celebrations and ceremonies
Prayer communion
Counseling and spiritual guidance for couples, families, caregivers, healers, spiritual servers, religious organizations and communities, Lightworkers