When I was a child, I was fascinated with all things Japanese, at least as far as that culture was represented in the United States. I wrote Haiku to the oboe player I had a crush on in college, had Hokusai prints on my walls, was fascinated with raku pottery and when I began to sing, couldn't wait to learn Un Bel Di (from Madame Butterfly). Yet modern Japan, having been through war and atomic bombs, aggression overseas accruing the karma of atrocities perpetrated, and the disaster at Fukushima releasing a deluge of radioactivity destroying an ocean's life, finally caused me to attempt to update my understanding of Japan's complex and mysterious culture and how it was meeting the modern day. When the tsunami hit Japan, I knew in my heart that I needed to respond and I began working spiritually with my young apprentice to do whatever we could to be of assistance, to encourage balance and healing to Japan and the world affected by the aftermath.
So when I was first invited to facilitate Thriving Planet workshops and sessions in Japan in 2013, I had some trepidation. Most of my friends said it was too dangerous to travel there physically, but one wise one said, "you are already involved and your field expands when you think of going and contracts when you think of turning away."
Then miraculously, I received another invitation, not from a person but from a tree, to come to Japan! My friend in New York, Pamela Turczyn, who had taken to heart my work with the trees, sent me a message saying that there were trees in Japan who knew me and wanted me to come. Her husband is Japanese and she loves Japan and she had been in Japan numerous times. She sent me a photo of a magnificent tree in front of the Old Imperial Rest House in Shinjuku Gyoen Gardens and its message to me and I knew that I could not say no.
Here are some messages she sent to me:
If what I'm picking up from my tree friends about a mission to clear up the radiation contamination from Fukushima is accurate, this is HUGE. By bringing in human consciousness to the efforts being made by the trees, you would have a global impact.
My trees in Willow [New York] are so excited, ENLIVENED to be communicating with me and, through me, with the trees in Japan and with you. They feel hope for the planet.
The Guardian Tree in the Shinjuku Imperial Gardens is a significant partner for you. You don't have to be physically present to start working with this tree.
The main message: The Master Tree of Fuchu is incubating orbs to counter radiation along with a network of other trees. They need you as the bridge between tree and human consciousness in order to bring the project to full fruition. Once you teach your students how to commune with the trees (this could be where the Guardian Tree can be helpful; his/her presence is so palpable), they can also work with the tree network to neutralize radiation. Your health won't be in danger.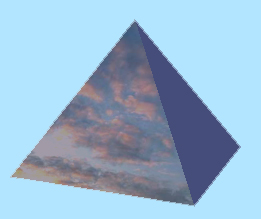 They are all networking on this project to neutralize nuclear radiation, including the Moreton Bay Fig tree you met in Byron Bay. Human consciousness is key to its success.
The Patience Tree in Willow conveyed a message for you to contact the Guardian Tree that lives in Shinjuku's Imperial Gardens. Communication Tree added that it has to do with your Tree Love workshops.
I was profoundly moved by Pamela's message. I wrote back to her:
Your communication with the trees is of course what attracts me the most. Knowing I have a tree partner there makes it all seem worthwhile of course!
My inner guidance was that indeed, I did already somehow know the tree in Shinjuko Gardens and that it needed assistance.
When Yuzuko Nishikawa offered to sponsor the Thriving Planet workshops in Japan, I had a "yes" inside.
During my first visit to Tokyo, it was absolutely amazing to actually physically locate and meet the tree whose photo I had seen half way around the world. I sat down to talk to him (I experienced him as male.) Here is some of our conversation:
Dear fabulous tree/one,
I was told to come here by Pamela and she said that you know me, so we've tuned into each other before I ever came to Tokyo. How did this happen? May I speak with you?
You are welcome here, dear one. This house has seen many "presidents" come and go and some wonderful and terrible things going on. As a result I have grown multifunctional, watching, aware, reporting on what I see and how it can be healed. No one has to become aware of these things — they go on everywhere — but when we have an audience as in your workshops, which we've learned about in many ways from several quarters, the abilities are extended, increased, brightened. Terrible or loathesome activities that have plagued an area for years or centuries are mitigated and tended to. Our cultivation of our higher abilities is coming to fruition in these parts because the challenges are greater than ever and because more people are awakening to our native goodness as well as to the dangers to life abundant represented by their activities on the land, in the water, and below the surface of the mind.
What can I do for you?
Just bring them here and we will do the rest.
Do you mean the workshops?
Yes of course, and the higher beings that attend to them. That confluence will be enough to initiate a different reality that can support the life forms with great attention to detail and a wholesome quality that is nourishing to all.
I am grateful to have been brought here.
Your friend Pamela has told you of me and has made contact over and over again. That has influenced my direction and how I use my attention.
And my tree friends in the United States who have initiated this project to save earth for us and all life? Are you aware of them?
They are welcome. Their living loving presence has caused a flourishing of our forces.
Our first Tree Love: Heart of the Forest took place in 2014 at the Meiji Shrine. I was astounded when 12 women showed up on a cold drizzly day to meet the trees. No woman who had registered cancelled despite the uncomfortable weather. Each had a pretty colorful umbrella, so the combination of the gleaming wet trees and paths and the sweet women with their bright umbrellas was beautiful. We had a wonderful day and some astonishing things happened.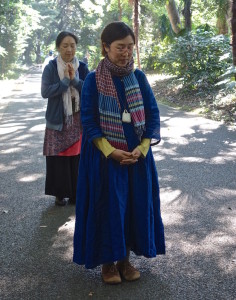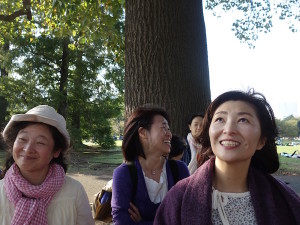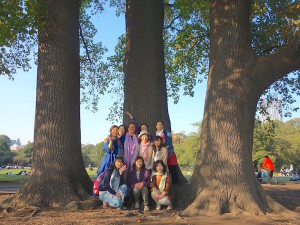 We then held a Laboratory of Life workshop in which we worked deeply on ourselves and then another Tree Love workshop at Shinjuko Gardens, this time on a sunny gorgeous day. In this, we finally brought to fruition the invitation I had received, the group working to support the work of the tree that Pamela named Guardian Tree at the Old Imperial Rest House. The work was a bit heavy as we were helping to heal some very tragic history, but was subsequently lightened when one of the participants took us to meet three magnificent trees in the center of the park. The trees lifted our spirits and we completed the workshop in joy.
Now I have been to Japan four times, with workshops in Tokyo and retreats at beautiful monasteries in Koyasan and Nagano with such wonderful groups and sparkly Yuzuko, who makes arrangements, gathers us and translates. Each time the work goes deeper and wider as the people and land become more responsive. I am grateful!